January 7, 2005 – The Reporter (Lansdale, PA)
Christopher A. Stanley, Staff Writer
The newest thing on the air in Lansdale is not new at all. In fact' if you live in or around the borough and tune your radio to 1620 AM' you may think that you have entered a time warp.
Way up at the end of the dial' you can hear some of the best radio dramas and music of the pre-television era courtesy of David McCrork' a 59-year-old Lansdale resident with an ear for old-time radio and a head for electronics. Thanks to a Federal Communications Commission code known as "Part 15'" anybody is allowed to operate unlicensed' extremely low-power AM radio stations' as long as they do not cause interference with any licensed station or anybody's ability to receive such stations. The owners of Part 15 stations are often called "microbroadcasters'" according to McCrork' and include hobbyists' community groups' political activists and churches.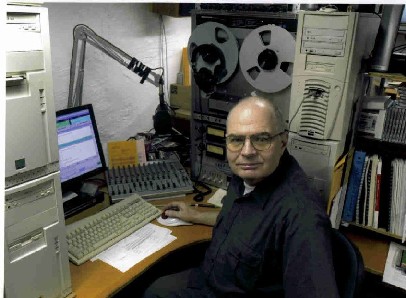 Two years ago McCrork' a radio engineer who consults for several local stations' started his own Part 15 radio station from a miniature studio nestled among the tool benches and shelves in the basement of his Lansdale home. McCrork said that what made his dream a reality was new computer software he was testing for his clients that automated radio programming' including everything from shows to jingles to news breaks." At that time I found the fees for high-end hardware and software ranged from four grand to $50'000' so I took a chance and bought a program for myself'" McCrork said' while sitting in his studio between two computer servers and a large reel-to-reel tape recording machine. "It was a base program of less-expensive low-end automation software. I learned it' and felt qualified to recommend it to two (commercial) stations. We implemented it and it worked. "I still had the program on my computer' and thought it would be really neat to put in a low-power station with old-time radio. I bought my own license for the software two years ago." McCrork purchased a transmitter' a weather-resistant unit about the size of a shoe box' and mounted it along with a three-meter antenna on an old flag pole in his back yard.
He started broadcasting at 1250 AM' but found that a higher frequency offered less interference' so he switched to 1620 AM. Since then' he has added another transmitter outside his office on Ridge Road in Salford Township' broadcasting the same programs to residents in the Tylersport and Telford area. Since the transmitter strength and antenna length are strictly limited by law' the range of each station is only about one to three miles' depending on the terrain' time of day and other factors.
Though Part 15 stations do not need call letters' McCrork named his WNAR-AM' which he says stands for "We're Nostalgic About Radio." WNAR is also the former call sign of Norristown station WNAP-AM (1110 AM)' which dropped the letters in 1984 when the station was sold. Through contacts in his consulting business' McCrork obtained many of the old jingles and station ID tapes from WNAR' and now uses them for his Part 15 station (edited to remove "Norristown'" adding "Lansdale" instead). His station also streams live on the Internet through his own Web site' www.wnar-am.com' or at www.live365.com' an Internet radio service.
His choice of programming was easy; he has been collecting old radio shows since the 1970s' and now has them cataloged and stored on his computers as MPEG files – shows like "Fibber McGee" and "Molly'" "The Life of Riley'" "Amos and Andy" and "The Lone Ranger." Newer shows include "CBS Radio Mystery Theater" and the Jean Shepherd show from the '70s. All the programs are stored on a computer server' along with 306 public service announcements' station identifications and jingles. The programming is done in advance on another computer' using a spreadsheet-like interface. A live news update received by satellite is automatically inserted nine times a day between the shows' and McCrork occasionally adds current programs' some of which come from listeners or theater groups.
He currently has 26'654 programs in his library' and though he plays some music' his station format is firmly rooted in dramas and comedies. I've been a fan of radio dramas since I was a kid'" McCrork said. "I was listening to the radio when I probably should have been in bed. Everything now has to be visual and graphic; with radio you have to use your mind. "On radio an entire day can be easily portrayed in five minutes; to do that visually is difficult. Romance on the radio is wonderful – you don't need all sorts of explicit stuff. You can portray that good warm feeling with proper sound effects' music and good dialogue."
McCrork's love of radio and radio equipment began when he was growing up in Ambler in the 1950s. "I got started when I was about 9 or 10 years old'" he said. "I was interested in radio' and I asked James Natoris – he owned the radio and TV shop on Butler Avenue in Ambler – if I could watch him work. He had enough patience to give me a job at (age) 11 or 12 testing tubes in radios. I got a quarter for each tube." After graduating from Wissahickon High School in 1964'
McCrork spent four years in the Army maintaining electronic equipment for the Army Security Agency. He took a correspondence course in broadcast engineering from the Cleveland Institute of Electronics' and received his diploma while serving in Vietnam.
After he returned' he worked as a radio and TV repair technician for Sears and other shops in Lansdale. He also operated his own shop on Reliance Road in Telford from 1975 until 2000. In 1984 he began working as a technical consultant for the Norristown radio station' currently WNAP (1110 AM)' and now maintains and installs new broadcast equipment and information technology for several local stations. He is also an employee of Davidheiser's Inc.' a Salford Township company that services and calibrates high-tech electronics.
Though McCrork admits that WNAR-AM is not a bad advertisement for his consulting business' he still considers it a hobby. He estimates that between equipment maintenance' upgrades and Internet fees' the station probably costs him $2'000 a year' but the only local advertising heard on the station is for the veterinary practice of his only child' Dr. David V. McCrork' who has an office in the Montgomeryville PetsMart store.
Luckily for the senior McCrork' his wife' Joanne' shares his love of old radio shows. She says the two of them can often be found sitting upstairs in their house listening to their own station on one of several radios' including some working antique models. "It's a nostalgic thing for me'" Joanne McCrork said' "sitting around next to a radio. It was part of the family. "It's the theater of the mind. I loved the old quiz shows and the westerns' and there was an old Sinatra show when he was very' very young called 'Rocky Fortune''" she said. "He had a very wry sense of humor' and when I saw his movies I appreciated him more than I would have otherwise. "On Saturday mornings I like to cook and listen to the shows' including 'The Great Gildersleeve''" she continued. "Sometimes he (David) will be working in the basement and I'll have the radio on in the bedroom in the evenings' and I'll read a book and listen at the same time." McCrork also seems happy with their retro pastime. "I'm not the stereotypical American' I guess'" he said. "Often Joanne is reading a book' and I'm listening to the radio. I still get a kick out of spinning the dial around and finding out what I can listen to the furthest away."